Task Management Software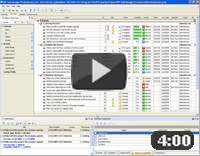 "This software rocks golden. Have been looking for this thingy a long time now. My search is over."
Tommy Hofton -
Eggedal, Norway
" Although I use Microsoft Outlook I found that the task tracking in your software has a better view and layout than Outlook. I like the way that icons can be used for different categories, and the different colours that are used in the main task list make it easier to get an overall picture of outstanding issues."
Christopher Jones -
Arundel, AU
"I have a purchased copy of VIP Team To Do List. Has to be one of the best products I have ever purchased. Well worth it."
Chad Lindsey -
Honolulu, HI
"I like the layout, categories, sorting, filters, and customizable print report. I love being able to change info on multiple tasks at once & being able to right click to change info on tasks."
Imelda Armstrong, -
Salt Lake City, UT
Day planner application – Mobile solutions and desktop solutions
If you want any project or task to be successfully accomplished, an action plan is needed. Action plans allow getting a big-picture view of all actions, as well as a detailed view of each action. To develop and follow an action plan, you need to use a daily planner application . Such an app can assist you with any questions concerning organization and management of tasks and events. The primary goal of related applications is to meet your requirements as to planning and performing tasks and jobs with minimal spending of money and time.

Mobile solutions
For those people who prefer using mobile devices to run task planning application , there are the following kinds of the application:

Day planner iPhone app . Apple Corporation has developed an advanced task managing solution that can be run on iPhone devices. Apple's iPhone day planner software is quite sufficient, but weak synchronization capabilities of many iPhones make it less functional.
iPod solutions app . Another solution from Apple is iPod which is a handheld device for uploading, keeping, listening and exchanging media files. iPod as well as iTouch software are rather simple solutions and they cannot be applied to advanced task management.
Blackberry app . Blackberry is a wireless handheld device developed by Research In Motion Company. Advanced synchronization capabilities of most Blackberry devices make Blackberry software more competitive and attractive for end users.

Microsoft software
Microsoft's products deserve special attention because they are widely used. Many people are sure that these products are quite sufficient and there's no need to look for more powerful alternatives. For example, Excel software is usually considered as an advanced solution for planning and performing tasks and duties. A possibility to download free planner Excel templates from Internet makes this solution more attractive. However, originally Excel software is a spreadsheet creator to perform calculations. It's not a to-do list manager for planning, managing and tracking tasks and events. Besides, group collaboration and data sharing features of the Microsoft's day planner solution are insufficient. For example, 2010 Excel software seems to be weak and not applicable to advanced task management.

Desktop solutions
The most widely used and convenient software applications for daily task planning and management are desktop-based solutions. Examples of desktop-based Apps are VIP Task Manager and VIP Organizer .

VIP Task Manager uses a client-server platform to allow you planning, scheduling, assigning, tracking and reporting tasks and todo lists. The software supports group collaboration in real time. VIP Organizer is a single-user solution. It is perfect to manage personal todo lists and tasks. Both day planner apps can be downloaded from this website and used for free within 30 days.
Operating Systems:

Windows ME, Windows 2000/2003 Server, Windows XP

Languages:

English

VIP Task Manager
Price:
---
Aug 7, 2013
VIP Quality Software today announced the general availability of CentriQS 2.0 version. With new reporting solution users can access and integrate information from all departments or business functions to present data in visually compelling formats without any additional software tools. Discover the new feature
Jul 1, 2013
VIP Quality Software team continues working on new versions of CentriQS, small business management software that features enterprise-level functionality for task management and database customization. What's new for spring 2013
---