Task Management Software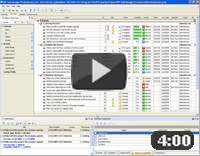 "This software rocks golden. Have been looking for this thingy a long time now. My search is over."
Tommy Hofton -
Eggedal, Norway
" Although I use Microsoft Outlook I found that the task tracking in your software has a better view and layout than Outlook. I like the way that icons can be used for different categories, and the different colours that are used in the main task list make it easier to get an overall picture of outstanding issues."
Christopher Jones -
Arundel, AU
"I have a purchased copy of VIP Team To Do List. Has to be one of the best products I have ever purchased. Well worth it."
Chad Lindsey -
Honolulu, HI
"I like the layout, categories, sorting, filters, and customizable print report. I love being able to change info on multiple tasks at once & being able to right click to change info on tasks."
Imelda Armstrong, -
Salt Lake City, UT
Action organizer - making your life more active and your office work more productive
Our lives become sluggish and boring without being active
An action is a power that leads people to do something because people cannot live without taking actions. Action organizer will help people plan, do and organize tasks effectively. Since not everyone uses software tools to do home chores, families face various problems. They are unable to plan purchases, week-ends, holidays, cleaning, etc. When a person doesn't use an organizer, he or she doesn't have a plan for future activities. For example, a student cannot schedule lectures, or a housewife cannot make a list of necessary purchases. Besides, their lives may seem to be sluggish and boring as there is no any scheduled event (a party, week-end, holiday) for the next few hours or days. That's why action organizer is so important for families and individuals.

A tool for offices
Standing up for corporative values and office duties requires being organized and engages action planning tools. Action organization is the set of our decisions about how we plan organize actions and care for our tasks in the office . If we wish to be productive and have our jobs done, we need to use task management programs. No matter whether the issue lies in managing either your daily tasks or you team's activities, a modern view on effective action organization realized in task planning programs will lead to success. You and your team members will win when using such software for office task management. It gives you team collaboration capabilities when you need to organize actions and tasks of the group.  Joint efforts and team collaboration will double the effect of task management, so your company will gain doubled advantages from using software.

VIP Organizer is an office and home action organizer that allows to create task lists, templates and to-do lists. This tool is easy-to-use and fully compatible with Windows 7, Vista and XP. The following feature of VIP Organizer brings you the best solutions for your office work:

Creating, editing and printing out task and action lists
Easily duplicating tasks
Prioritizing tasks and setting due dates for better planning
Filtering, grouping and sorting action lists by any task attribute
Sending task reminders by e-mail
Creating multiple databases for office and home use
Exporting task lists view to Excel, Text and HTML files

Action organizer teamware solutions - VIP Task Manager
The best solution for group task management and team collaboration will be VIP Task Manager. This client-server application allows to create a centralized password-protected database where each employee can watch and execute action lists and the team leader can track task performance and get reports from the team members.
---
Aug 7, 2013
VIP Quality Software today announced the general availability of CentriQS 2.0 version. With new reporting solution users can access and integrate information from all departments or business functions to present data in visually compelling formats without any additional software tools. Discover the new feature
Jul 1, 2013
VIP Quality Software team continues working on new versions of CentriQS, small business management software that features enterprise-level functionality for task management and database customization. What's new for spring 2013
---