Task Management Software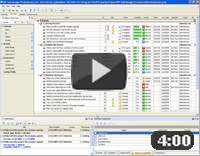 "This software rocks golden. Have been looking for this thingy a long time now. My search is over."
Tommy Hofton -
Eggedal, Norway
" Although I use Microsoft Outlook I found that the task tracking in your software has a better view and layout than Outlook. I like the way that icons can be used for different categories, and the different colours that are used in the main task list make it easier to get an overall picture of outstanding issues."
Christopher Jones -
Arundel, AU
"I have a purchased copy of VIP Team To Do List. Has to be one of the best products I have ever purchased. Well worth it."
Chad Lindsey -
Honolulu, HI
"I like the layout, categories, sorting, filters, and customizable print report. I love being able to change info on multiple tasks at once & being able to right click to change info on tasks."
Imelda Armstrong, -
Salt Lake City, UT
Advantages of pc to do list over pocket to do list
Web-based to do list format services
In the world of Internet there you can find a lot of services, either free or chargeable, that allow to store tasks in to do list format. To do list program is a set of PHP scripts and code lines that designs a web-based list of tasks. Items in the list can be added, removed, sorted, assigned, prioritized, etc. Such a service is convenient for web designers, IT specialist, programmers, and other employees who spend a lot of time on work on the global network.

Pocket to do list: be focused on your efforts with PDA
The ability to use a pocket to do list (it's often called a ppc to do list) to get things done is one of the most fundamental working skills that people can apply in everyday life. It helps people deliver jobs reliably without allowing tasks to be missed or postponed. It obviously helps optimize daily workload and reduce the stress of failure to do something essential.

The great opportunity about using pocket pc to do list is that today portable devices become very small and convenient in use allowing people to be mobile. More and more people use personal digital assistants (PDA) in everyday life to organize business tasks and home chores. These people create pda or phone to do list to store and manage digital data, such as tasks, ideas, images and appointments in their phones and PDA. As a rule, PDA allows todo list software to be synchronized online with widespread internet services like iCalendar or Gmail by Google. If you want to start using such software to organize your jobs, you have one big advantage: such to do lists can be used on any personal assistant device and also on some advanced models of mobile phones.

PC to do list: gain more advantages from desktop-based systems
We use computers each day to manage our business tasks, home chores and entertainment challenges. Desktop-based task management system allows us to create pc to do lists and brings us more advantages than a ppc to do list system does. Advantages of pc-based to do list over ppc to do list are listed below:

More functions. As a rule, desktop-based to do list systems have greater functionally than pda programs do. In addition, the usability and reliability of desktop computers are higher
Uninterrupted workflow. You can continuously work on your desktop computer without any limitations in power consumption, while phone to do list systems vastly depend on accumulator capacity
Security. Unfortunately, none of us is insured against loss/theft of mobile phone or PDA. That's why all important data in pda to do list are under much greater risk than if we store personal data in pc-based to do list. Our desktop systems are better secured and protected.

Desktop-based software for managing digital to do lists
VIP Team To Do List is a daily task planner pc program that creates digital to do list with possibility to send tasks to handheld planners and pocket computers. Although VIP Team To Do List is desktop software, it brings additional benefits for those who are accustomed to use portable devices. The program allows to unite employees who work both with phone and pc to do list. This unique combination is based on task emailing - the feature that allows to email tasks from desktop computer to PDA, transforming pc to do lists into data for PDA.

Teamware solution - VIP Task Manager software
Thebest solution for group task management and team collaboration will be VIP Task Manager. This client-server application allows to create a centralized password-protected database where each employee can watch and execute to-do lists and the team leader can track task performance and get reports from the team members.
---
Aug 7, 2013
VIP Quality Software today announced the general availability of CentriQS 2.0 version. With new reporting solution users can access and integrate information from all departments or business functions to present data in visually compelling formats without any additional software tools. Discover the new feature
Jul 1, 2013
VIP Quality Software team continues working on new versions of CentriQS, small business management software that features enterprise-level functionality for task management and database customization. What's new for spring 2013
---