Task Management Software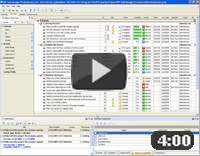 "This software rocks golden. Have been looking for this thingy a long time now. My search is over."
Tommy Hofton -
Eggedal, Norway
" Although I use Microsoft Outlook I found that the task tracking in your software has a better view and layout than Outlook. I like the way that icons can be used for different categories, and the different colours that are used in the main task list make it easier to get an overall picture of outstanding issues."
Christopher Jones -
Arundel, AU
"I have a purchased copy of VIP Team To Do List. Has to be one of the best products I have ever purchased. Well worth it."
Chad Lindsey -
Honolulu, HI
"I like the layout, categories, sorting, filters, and customizable print report. I love being able to change info on multiple tasks at once & being able to right click to change info on tasks."
Imelda Armstrong, -
Salt Lake City, UT
Job flow software – Unifying daily activities into a single solution
Proper management of job flow processes has always been at the heart of a successful and profitable enterprise. Job flow software provides you with the key to proper workflow process management by offering a simple and efficient way to establish, manage, and track business processes in a virtual work environment. Every day a great number of processes are carried out and managed in your organization. Your employees devote a considerable mount of time and effort to finding and entering data, exchanging documents, identifying bottlenecks, arranging activities, and creating solutions to support effective decisions. In order to succeed in undertaking all these daily operations, your employees need to use such software .

Such software allows unifying daily activities of your employees into a single solution that generates tools for managing common working time and running common working process.

Job flow software will offer you a workflow technology that enables your organization to develop, analyze, and re-design business processes in the way that improves business effectiveness. An example of such software is VIP Task Manager.

VIP Task Manager has a job flow building tool that allows you to consider your tasks as a sequence of jobs to be completed in accordance with current statuses. This tool is called Workflow Editor. You can use Workflow Editor to create new statuses for your tasks and customize existing task statuses. All processes in your organization can be organized better and managed more efficiently. For example, the process of selling in your organization can be organized into a series of prioritized tasks that obtain the following statuses: "Draft", "Ordered", " Invoiced", "Paid", "Shipped", "Delivered", "In Stock". The software allows you to monitor the progress of your selling process, set task priorities and track any new changes applied to tasks by your employees.

VIP Task Manager features Task Tree view which is helpful to create and use templates and sheets. Your selling process can be arranged into a template that you can duplicate each time when you need to sell a product. Any other process in your organization can be also arranged into a series of sheets . All your templates and sheets can be stored in a separate folder in your corporate database and you can archive unnecessary templates and use filter to find needed templates. If you need to build charts that give a graph representation of processes in your organization, you can use Charts Panel and display your sheets as diagrams. You can use one of the five charts , incl. Pie Chart and Bar Chart.

VIP Organizer is single-user software for task management. You can use it to create personal todo lists, tasks and categories of tasks. VIP Organizer is available for free use (a 30-day evaluation copy) within 1 month.
---
Aug 7, 2013
VIP Quality Software today announced the general availability of CentriQS 2.0 version. With new reporting solution users can access and integrate information from all departments or business functions to present data in visually compelling formats without any additional software tools. Discover the new feature
Jul 1, 2013
VIP Quality Software team continues working on new versions of CentriQS, small business management software that features enterprise-level functionality for task management and database customization. What's new for spring 2013
---