Task Management Software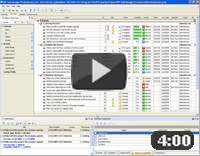 "This software rocks golden. Have been looking for this thingy a long time now. My search is over."
Tommy Hofton -
Eggedal, Norway
" Although I use Microsoft Outlook I found that the task tracking in your software has a better view and layout than Outlook. I like the way that icons can be used for different categories, and the different colours that are used in the main task list make it easier to get an overall picture of outstanding issues."
Christopher Jones -
Arundel, AU
"I have a purchased copy of VIP Team To Do List. Has to be one of the best products I have ever purchased. Well worth it."
Chad Lindsey -
Honolulu, HI
"I like the layout, categories, sorting, filters, and customizable print report. I love being able to change info on multiple tasks at once & being able to right click to change info on tasks."
Imelda Armstrong, -
Salt Lake City, UT
Product management tools to control product lifecycle and related services
Products management tools are computer programs which have appropriate functionality that helps a company to manage its products in terms of their statuses (product lifecycle), lifecycle management, marketing & sales, engineering etc. Every product is primarily designed and developed, then realized (produced, constructed or procured), distributed or delivered to customer, then operated, supported and maintained, and finally retired, phased-out and disposed. Actually any software can belong to those tools if it has the following capabilities:

spreadsheet – this tool can be used to list nomenclature of available products and to assign appropriate statuses to them. Basically these can be statuses of classic product lifecycle (Development, Introduction, Growth, Mature and Decline), so you can track the whole product management portfolio of your company on one screen to know stage of each product.
plan – this is a tree-like structure which can be used to manage product lifecycle in terms of stages such as conceiving, designing, realizing and servicing. Actually with its help you can direct and supervise processes of creating and managing products in your company, it may include miscellaneous tasks driven by different departments.
dashboard – this is an electronic sheet showing you all the essential features of your products, summarized in one report or spread among several dashboards. For example the software described below provides you with a set of different instruments enabling you to study portfolio of your products from different points of view.

VIP Task Manager is among tools which allow you to gather different facts about your tasks within one database. This software features product management matrix (Task List) to input your products as tasks and all essential product indicators as task attributes (standard and custom). With a help of collaborating capabilities of this program you can establish product management workshop interconnecting specialists from different departments which work with the product so they will be able to contribute their parts of information to make a full picture for managers of higher level. Using this tool in different regimes you can reach effect like you had a product management scorecard showing you different aspects of one product – you can track product sales, maintenance services and other essential services.
---
Aug 7, 2013
VIP Quality Software today announced the general availability of CentriQS 2.0 version. With new reporting solution users can access and integrate information from all departments or business functions to present data in visually compelling formats without any additional software tools. Discover the new feature
Jul 1, 2013
VIP Quality Software team continues working on new versions of CentriQS, small business management software that features enterprise-level functionality for task management and database customization. What's new for spring 2013
---