Task Management Software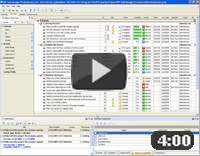 "I have recently become really passionate about managing daily tasks that are not re-occurring. I feel Microsoft Office does a fine job helping user manage their appointments and meetings; however their "tasks" module is lacking in every way. I found your SimpleToDoList software to be very user friendly and simple to use. I use the software every day and have spread the word to others I think would find it useful."

Matthew Logering -
Minneapolis, MN

"...I'm a big fan of your product. I've tried dozens of approaches to To Do lists over the past 25 years and believe that you've come up with the best interface and workflow that I've seen..."

David Baumann -
Potomac, MD

"...This is an excellent program. I'm so glad that I stumbled on to this when researching for task management programs. Very low learning curv, quite flexible, and the price is right. Tried at least 20 other programs, either too complicated, too expensive, or poor documentation...."

Chad Lindsey -
Honolulu, HI


Some thing aboutautomation collaboration software
Solutions
Small business is very promising undertaking for a responsible and initiative person. It allows you to fulfill your most remarkable ideas and derive maximum benefit from them. You need a powerful and easy-to-handle planning tool which allows you to create your own time-table and delegate tasks to other people.
---
Home business gives you many new opportunities. You can increase your income and have more flexible schedule. You can find more time for your family and work in more comfortable environment. But home business requires better self-discipline and self-dependence than usual office work.
---
Many complicated and expensive project management programs don't provide the flexibility in project execution and control. VIP Team To Do List quickly turns a complex project into set of simple and personalized 'to do lists' for each project team member.
---
Share tasks with your team members within one mouse click. The program will make you more effective team leader and establish your team communication.
---
If you know precisely what your goals are, you know what you want to achieve and what you have to do to succeed. Goal management software is used by achievers in all fields.
---
When developing software we deal with lots of things which should not be missed. For instance, modifying a function or class we have to make code changes in other functions of the program. What's more? To correct all the bugs you noticed…
---
Student's life could be wonderful but for studying, however students can be much more efficient and effective if they start using 'to do list software', one the most powerful time-management tools for organizing and planning studies.
---