Task Management Software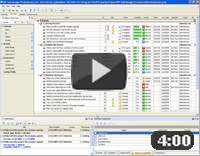 Getting Organized Template - To Do List for Getting Organized
Getting Organized template is a 'to do list' for you to organize your personal and professional life. Use this Getting Organized template as a Template to increase your effectiveness and success that depends much on how organized your life is.

You can download this template in VIP Organizer or VIP Team To Do List database format.

Download: Getting-Organized.zip 26Kb
1. Self:
Think about organizing methods that worked for you in the past.
It could be something you don't practice any more, but when you used it consistently it worked for you.

Get rid of clutter
Ask yourself: "Do I really need this one" and if the answer is 'no', find it a "better home", e.g. an organization that may benefit from items you no longer use.

Break things down into small steps
Don't try to tackle too big of a job. Start organizing your umbrellas instead of your entire lobby. Do the ugliest thing first. Like a child cleaning his/her room

Set goals, priorities and plans
Always ask yourself: Why am I doing this? What is the goal? Why will I succeed? What happens if I choose not to do it?

Plan each day, each week, each month
You can always change your plan, but only once you have one!

Buy an organizing product, VIP Simple To Do List.
Note: owning the product doesn't get you organized; using it does!

Evaluate your progress
Once you've lived in your newly organized space for awhile, set aside some time to decide if it works as efficiently as you want.
2. Finance:
Keep track of all your daily spending
Discover where your money is going and start going toward your investment plan.

Know where your money is invested.
Have all your investment accounts where you keep all your records in one place.

Make financial education a habit.
Take 10 minutes a day to read related articles in the car or over breakfast.

Get all financial-related information in one place.
Putting all the various bills, receipts, and statements in a box or pile. It's much easier to organize when all your information is in one spot!

Sort and separate your papers
Separate tax-related items from ones that you won't be claiming. From those two main financial types create piles for sub-categories.

Track it.
Once you have all your financial information sorted, separated, and filed, it's easy to take the next step and track where your hard-earned cash is going.
3. Family:
Schedule 10-15 minutes every morning to plan your day.
This tip will help you get the important details off of your mind so you can sleep more restfully.

Schedule one-on-one time with each of your kids.
This can be as simple as going for a walk or having a special lunch together, or more involved like a camping trip or special vacation.

Allow kids to help with household chores.
Very young children will need more direction and help, but as they get older, they will have the skills they need to become more independent.

Make picking up toys a game.
Do it together, entice them with a reward, and play music or sing songs.
4. Home:
General
Have a couple of clutter collection baskets placed strategically throughout your house.

Kitchen
Think about how many plastic food storage containers you will actually use. Set up a message center to collect phone calls and paper.

Lobby
Place a small shelf and hooks to hang keys and collect coins and other small objects.

Bathroom
Attach a plastic, wall-mount file pocket to the wall to keep reading materials off the floor and easy to reach.
5. Work:
Choose the right workstation.
Think about the functions that you'll be doing at your desk. Analyze what you do in a day, and make sure that your desk or workstation will be able to accommodate your needs.

Keep your desktop clear.
Toss unused items from your desk drawers, sort supplies you use into logical piles, store office supplies in one drawer, stationery and phone books in another, and computer disks and CDs in another.

Control paper piles with stationery trays.
Sort your paper pile into categories that make sense to you, place a stack or two of stationery trays on your desk, and label each tray with a category of papers you currently use.

Gain more space using the walls.
Attach shelves and trays to cubical walls or office dividers.

Keep your office organized each evening.
Set aside fifteen minutes before going home to put everything away, file papers, and jot down tomorrow's to-do list.
---
Aug 7, 2013
VIP Quality Software today announced the general availability of CentriQS 2.0 version. With new reporting solution users can access and integrate information from all departments or business functions to present data in visually compelling formats without any additional software tools. Discover the new feature
Jul 1, 2013
VIP Quality Software team continues working on new versions of CentriQS, small business management software that features enterprise-level functionality for task management and database customization. What's new for spring 2013
---