Task Management Software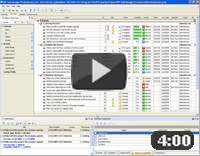 Travel Template - To Do List for Travel
Travel template is a 'to do list' for you not to forget anything at home and keep your property safe while you're traveling. Use this Travel Template to have a safer, less expensive and more enjoyable travel.

You can download this template in VIP Organizer or VIP Team To Do List database format.

Download: Travel-Checklist.zip 18K
1. MONTHS TO GO
Collect information on your destination.
Do some research on the area you'll be visiting and on the way you'll be getting there. This is especially important to start your research early if you are planning foreign travel.

Plan your trip.
Compare prices and services offered.

Get the required vaccinations, medication, medical kit and vaccination card.
After consulting your physician, consider starting an exercise program to prepare your body for the extra exertion you'll experience while traveling.

Organize credit/debit cards.
Remember your PIN numbers or get new ones issued for all your credit, debit, ATM and phone cards.
2. WEEKS TO GO
Get traveler's checks from the bank.

Inform your family and friends about your itinerary and contact addresses.

Purchase your luggage and clothing.
Watch the weather, so you'll know what to expect and can pack accordingly.

Make arrangements for your mail to be held at the Post Office.

Arrange boarding for your pets.

Reconfirm your reservations.

Hide valuable items in your house if you don't have a safety deposit box.
3. DAYS TO GO
Check camera, buy new batteries and film.

Make several copies of your passport, credit card numbers and travelers check serial numbers.
Leave a copy at home, keep another in your suitcase and give the third one to your traveling companion.

Inform local police and security system company that any alarms should be considered as real.

Pick up all your items from the cleaners.

Start packing.
Don't pack more than you can carry.
4. ONE DAY TO GO
Pay bills that will come due while you are away.

Evaluate the weight of the luggage is comfortable.

Move houseplants away from direct sunlight.

Empty the refrigerator of items that might spoil.

Cancel or hold your newspaper delivery.

Set automatic light and radio timers.

Wash the dishes, empty trash
5. THE DAY YOU GO
Water plants.

Remove all expensive and movable things from yard.

Leave shades or drapes in their normal position.

Set lights and radio on timer.

Lock all doors and windows in the house and garage.

Unplug electronic items sensitive to power surges.
---
Aug 7, 2013
VIP Quality Software today announced the general availability of CentriQS 2.0 version. With new reporting solution users can access and integrate information from all departments or business functions to present data in visually compelling formats without any additional software tools. Discover the new feature
Jul 1, 2013
VIP Quality Software team continues working on new versions of CentriQS, small business management software that features enterprise-level functionality for task management and database customization. What's new for spring 2013
---